Recently I installed a new stereo for my 2007 Dodge Grand Caravan (the OEM one did not have MP3 capability and could not read from USB) and would like to document the steps for sharing. (Standard no-warranty disclaimer applies here — the materials here are meant to be helpful, USE AT YOUR OWN RISK.)
First, I bought a standard single-DIN sized after-market stereo.  Three adapters are needed to install this onto my Grand Caravan: 1) Metra 99-6503 Dash Kit; 2) Metra 40-CR10 Antenna Adapter Cable; 3) Metra 70-6502 Radio Wiring Harness.  The 3rd one is a bit tricky because model Metra 70-6522 Radio Wiring Harness for Chrysler 2007 is for Grand Caravan 2008 and later — I bought it then found it was wrong and called Metra to get the correct item number.
Preparation: Sold the item 3), the wiring harness to the one comes with the after-market stereo unit. After soldering, tape and insulate the exposed wires. (One could use wire nuts/end caps for connection instead of soldering and tapering.) The colors are quite straightforward to follow (read the label, read the small letters on the wires or read the instruction that comes with the wiring harness).
Step 1 (optional): Remove the cup holder. Pull the cup holder to expose the tab (I circled it in red in the image below). Press the tab and you can take the cup holder out.
Step 2: Ply the plastic cover to expose the screws. (As you can see, I have not done the optional Step 1 yet in the photo.)
Step 3: Remove the inner two screws. — After the plastic cover bar removed, you can see 4 screws as shown in the photo below.
Step 4: Ply the main cover. From the bottom, ply it to make it loose, then finally remove the whole panel. The design is not bad, so do not be too worried about breaking the hinges.
Step 5: Unscrew the stereo unit. — After the main panel removed, the four screws that secure the stereo unit are exposed. Mine only had 2 screws from the factory. The one shown below is indeed my new stereo with the Dash Kit. Inside the red rectangle is my single-DIN sized stereo.
Step 6: Unhook the original wires (it's a plug) and the antenna (you need to pull really hard). Then hook the wire harness and the antenna adapter (marked in red frames).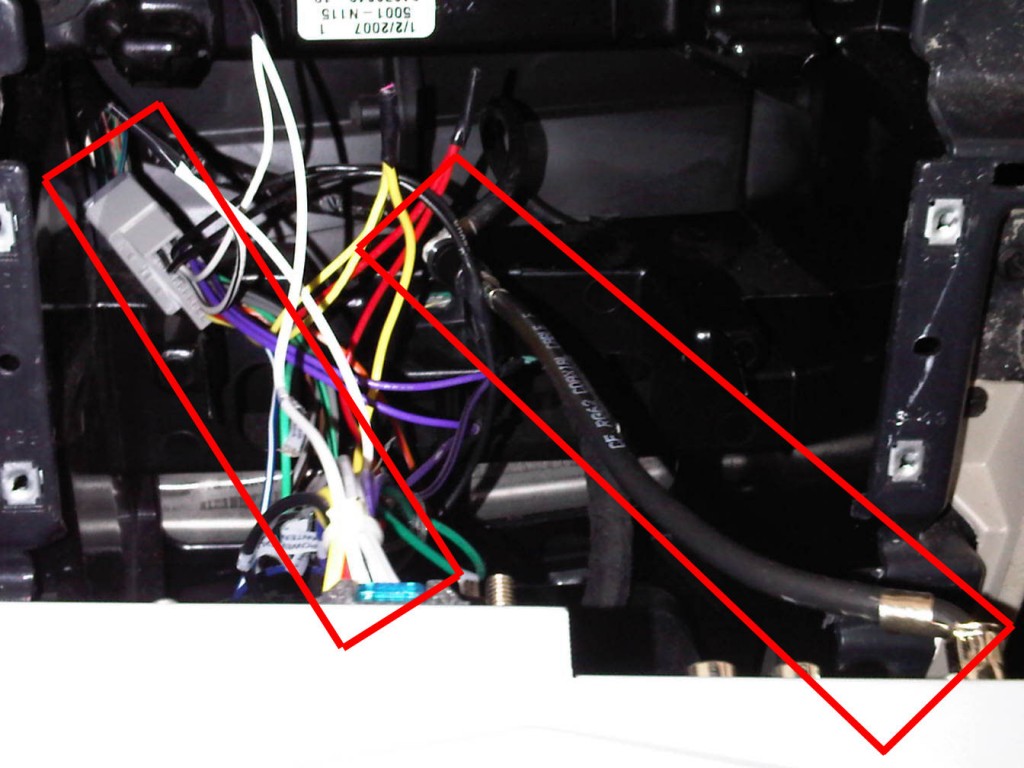 Finally, you can put everything back and enjoy!
To stop spammers, I disabled the comments. If you want to thank me, either drop me an email, or better, post on where did you buy the parts and help more people.